Albuquerque Native Roman Baca and Exit12 Dance Company New Mexico Tour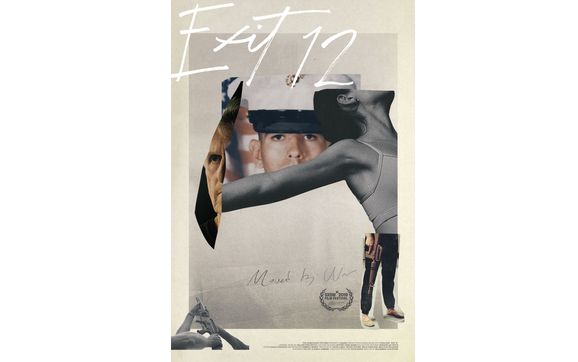 Albuquerque Native Roman Baca and Exit12 Dance Company New Mexico Tour: PBS, Film, Panel and Culminating Event
May 24th, 2021
Press Information from The New Mexico Department of Cultural Affairs
New Mexico Arts/New Mexico Arts & the Military, EXIT12, Keshet Dance, and DADvocacy Consulting, present a Memorial Day virtual screening of the award-winning documentary "EXIT12: Moved by War," followed by the premiere of a new piece choreographed during EXIT 12's New Mexico residency, and a Q&A with the artists of EXIT12. The hour-long event will begin at 10 a.m. MDT on May 31, 2021. Register for this free event here.
After two tours in Fallujah during the Iraq War, U.S. Marine and combat veteran Román Baca came home ravaged with depression, anxiety, and anger. With few places to turn, Baca went back to his first passion, ballet, as a way to cope — and discovered that through dance he was able to "reprogram" himself and begin to heal.
EXIT12 joins dance and stories about the effects of war — to heal and change the stereotypes of the Veteran community.
Moderator for the Memorial Day event will be Rick Iannucci, retired U.S. Marshal and former Green Beret as well as Horses For Heroes-NM Inc. executive director and Instructor. A rancher and ordained priest (Celtic Catholic Rite), he currently serves as chaplain and chaplaincy section chair for the National Tactical Officers Association (NTOA). He is the New Mexico State Senate Chaplain and a Life Member of the Special Forces Association (D-7014 L) and the Santa Fe Interfaith Leadership Alliance.
About New Mexico Arts and New Mexico Arts & the Military

New Mexico Arts, a division of the Department of Cultural Affairs, is the state arts agency. New Mexico Arts administers the state's One Percent for Public Art program, awards grants to nonprofit organizations for arts and cultural programs in their communities across the state, and provides technical assistance and educational opportunities for organizations, artists, and arts educators throughout New Mexico.
New Mexico Arts & the Military is a community engagement initiative of the state arts agency designed to connect veterans and military families with non-profit and government agencies that employ the arts as a means to healing and reintegration.
About the Presenting Partners
Founded in 1996, Keshet Dance and Center for the Arts has been a stable of the central NM arts landscape. Its mission is "to inspire and unite community by fostering unlimited possibilities through dance, mentorship and a creative space for the arts." Keshet's goals are to actuate change responsive to social and community needs in the areas of juvenile justice, access to dance for individuals with disabilities, and support/resources for arts entrepreneurs. Keshet pursues these goals through the powerful vehicle of the arts, mentorship, and community collaboration in non-­ therapeutic settings. Through all of Keshet's combined programming (including both virtual and non-broadband dependent activities), the organization reaches approximately 10,000 individuals annually throughout the entire state of NM.
Celebrating over 60 years of service, NMPBS (KNME & KNMD-TV) serving New Mexico and the Navajo Nation, broadcasts a wide array of nature, history, current affairs, health, performance, children's, educational and entertainment programs. NMPBS produces NEW MEXICO IN FOCUS, ¡COLORES! and a variety of specials. NMPBS operates 5 digital broadcast channels: 5.1, 5.2, 5.3, 9.1, and 9.2. NMPBS is co-licensed to the University of New Mexico (UNM) and Albuquerque Public Schools (APS).
Founded by a New Mexico Native US Marine Iraq War Veteran and two ballerinas in 2007, Exit12 Dance Company is a pioneer in the genre of military veteran art. It is a contemporary dance company committed to creating and performing works of high cultural significance that inspire conversations about world differences and the lasting effects of violence and conflict on communities, families, and individuals. Through movement, Exit12 educates audiences about the reality of war, advocates diversity and mutual understanding through cultural exchange, and champions the humanity and dignity of all persons. EXIT12 supports and advances the notion that art heals and is devoted to serving those who have been touched by conflict by expressing their stories.
Founder and Artistic Director Roman Baca is an Albuquerque native who trained in classical ballet before enlisting in the US Marines in 2001. He served as a machine-gunner and fire-team leader in Fallujah, Iraq during the Iraq War and co-founded Exit12 Dance Company upon returning to civilian life. He has choreographed and championed dance works that explore the military veteran experience and the impact of war on civilians and families internationally. Baca recently completed his MFA in Choreography at London's Trinity Laban Conservatoire of Music and Dance and is excited to return to his roots in New Mexico in 2021.
The DADvocacy Consulting Group (DCG) acknowledges the vital roles of fathers and mothers alike. DADvocacy builds upon research that affirms that children, fathers, families, and communities are better off when fathers and children are positively engaged in each other's lives. It includes an active, lifelong commitment to the physical, emotional, social, cognitive/academic, creative, and moral/spiritual well-being of children. DADvocacy takes deliberate actions and helps develop policies to support, encourage, and optimize opportunities for fathers, grandfathers, and father figures to be involved in children's lives, and vice versa.
#